Most Popular Entry Doors in 2020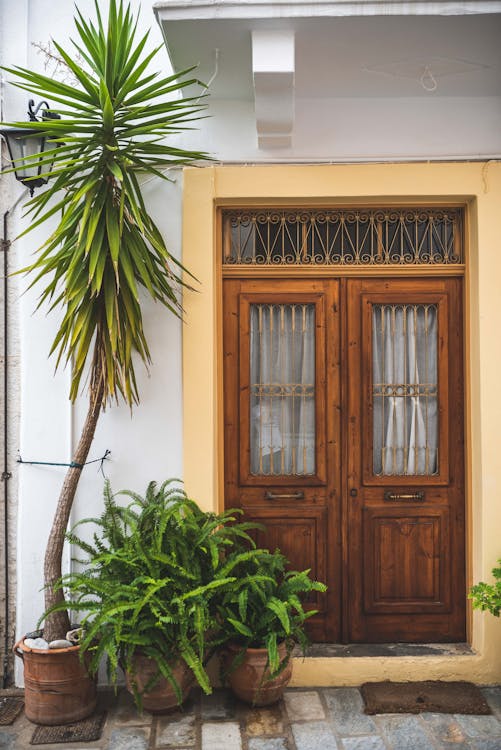 Installing a new entry door is one of the most noticeable home improvements you can make. It also offers a great return on investment, making it a wise project if you're planning to move soon. With so many materials, colors, finishes, and features to choose from, you may have a hard time narrowing down your choices. Luckily, you can achieve the perfect balance of style, functionality, and security with these popular entry doors of 2020.
Explore this year's entry door trends here. Then, contact Open Enclose at (520) 485-4546 to ask about our entry door replacement services in Tucson, AZ.
Fun, Eye-Catching Colors
Statement doors are nothing new, but they're bound to stick around in 2020. Bright red, aquamarine, or sunshine yellow will set the tone as guests approach your home. They know that once they enter, they're bound to have a good time!
Natural Wood Stain
The timeless beauty of a solid wood door can't be denied. If your home's interior has other natural wood elements, consider extending the look to your front door by staining rather than painting it. You can create a look that ranges from country charm to Tuscan elegance to mid-century modern—it all depends on the door's design, wood species, and stain color.
Wood Alternatives
Wood is a traditional, time-tested material, but affordable, low-maintenance fiberglass and steel entry doors are also trending in 2020. Fiberglass doors can be painted or even stained to resemble solid wood for the aesthetic you want without the cost or upkeep. Then, steel offers exceptional security and energy efficiency. All of these options are worth considering.
Glass Elements
This 2020 entry door trend provides an excellent source of natural light in your home. You might opt for a full-glass entry door or prefer small glass panels for visual interest. When shopping for glass doors, make sure you choose a model with advanced features for efficiency and security, including double glazing, low-E coatings, and gas infill. You can also explore privacy glass options to blur the view while still allowing light to enter.
Fresh Hardware
Changing the look and functionality of your entry door doesn't necessarily mean replacing it. If the door is in good condition, simply swapping out the hardware can make a big difference. Hardware finishes that are trending in 2020 include brushed steel and champagne bronze.
Increased Security
While this isn't necessarily an aesthetic trend, it's definitely on many homeowners' radars in 2020. People are spending more on home security than ever before. This doesn't just mean alarms and surveillance cameras, but more secure entry doors as well. Features such as six-pin locks, strike-resistant deadbolt plates, and theft-proof hinges are designed to increase your peace of mind.
Smart Features
Entry doors are no strangers to technology. Smart homes have taken the world by storm, and one of the most popular trends is the ability to lock and unlock the front door from anywhere using a smartphone. Keypad entry is also handy for granting access to delivery people and maintenance crews when you're not at home. These features are sure to go great with a video camera doorbell, another trending home security feature.
Replace Your Entry Door in Tucson, AZ
No matter which 2020 entry door trends interest you the most, Open Enclose is here to help you implement them. Our haggle-free, upfront pricing lets you start your project with ease. Choose entry doors from some of today's top brands, including Andersen, Ironwood, and many others. We have years of experience as a locally owned and operated door installer, and we promise to meet your expectations with a 100% satisfaction guarantee!
Contact us today at (520) 485-4546 to begin your entry door replacement project.
WHY CHOOSE US?
100% Customer Service Satisfaction
Haggle-Free Upfront Pricing
We Do It All, No Sub-Contracting
Free, No-Obligation Estimate